Product Description

This Solution washes away pesticides & 99.99% Germs* & Helps keep your family safe from Germs*. This Solution is safe to use on Fruits & Vegetables*.
INGREDIENTS:
Unlike Other Big brands who claims their product is 100% Herbal but they keep using Chlorine, Liquid Soap & Other Foaming Agents which mainly used in hand wash, Shampoo & Soap Bars and Other Mild harmful chemicals to clean the vegetables & Fruits but if by chance you forgot to clean the veggies 3-4 times on running water then you might suffer from health issue. But Our Product is Herbal Liquid. We tried our best to avoid harmful chemicals, colours, Any Kind of Detergent & Chlorine. Due to use of Neem Oil & Lemon Flower Extract Our Solution is Little pale yellow but we use ZERO Chemical Colours in it, in order to keep your health safe.
It contains Neem Oil, Lemon Flower Extract, Citric Acid, Sodium Chloride, Potassium Sorbate,  EDTA, H2O2, Sodium Benzoate, which keeps your Vegetables and Fruits Clean from any kind of Germs & Pesticides.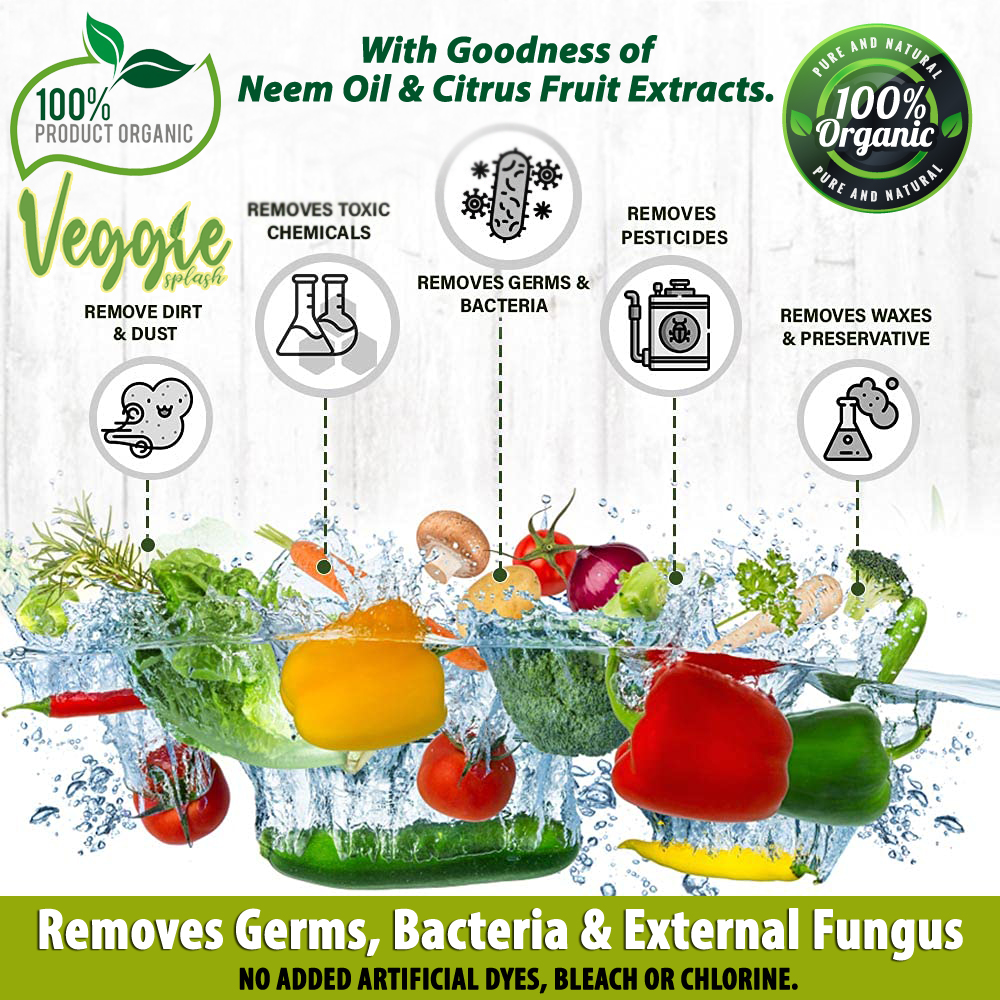 HOW TO USE:
First Take I litre of Tap water and then add 30 ml approx Our "Veggie Splash" liquid in it and mix it in your hand then add your Fruits & Vegetables in it and remember never ever soak your sliced vegetables and Fruits Like in our Indian market we buy few Vegetables in sliced just like Pumpkins and few others so please don't soak sliced Vegetables and Mushrooms in this Solution.
Try to keep all Vegetables and Fruits in that Solutions for Approx 20 mins. Then Rub each Vegetables & Fruits thoroughly with hand dipped within the Solution. After it Strain all the Vegetables and Rinse them in the Running water.
The current situation is Not good, before Vegetable traders Mixing harmful colours, Pesticides and many other chemicals in the Vegetables & Fruits which was causing many health issues but now Apart from those issues we have New problem which is COVID-19, so nothing is Safe Now. By Giving your few minutes towards the Vegetables and Fruits can also save your life. Because in our India Most people have a habit to Store all Vegetables in Fridge when they Buy it from market but that is totally unsafe now.
Additionally you can do one thing Extra You can Add 30-40ml of Veggie Splash Solution in a Spray Bottle and pour 500ml-1L water in your spray bottle based on the Bottle capacity then Shake it well after it Spray on your all vegetables and keep it few mins and Rinse it in Running water but We Suggest for a Better result always Soak all of your vegetables and Fruits in the Solution for 20 mins.
We personally tried this solution for 4-5 months as a trial to see whether it's working on it we improved our Formulation and Trust us it work far better than other Brand Items. We never gave too much of attention on packaging or Branding rather we gave full time and focus on developing a best product which comes under the budget of a every common man.
In market you will find many such products from BIG Brands with High cost but if any item comes in Good Attractive packaging with High price that doesn't mean they have the Best product. Please try once Our Veggie Splash you will Never Regret.
NOTE:
If you Notice any Sediment or little particles in bottom of the Solution then don't get afraid of seeing it, it comes due to use of Neel Oil and  Lemon Flower Extract, these few items are used naturally and we can't filter it because if we will do this then the goodness of Neem and Lemon will get destroyed and then there will be no benefit of using it. Due to this reason we use it as it is without filtering it. So please don't get panic, it's very common and safe.
Still if you have any kind of Doubt Just Mail US or Cal us we will answer your each and every question. If you have any suggestion for us then you can write us we will listen to your Advice and try to execute it.
Product Features
Net Volume

1

ltr

Material

Vegetable & Fruit Wash Liquid

Brand

Veggie Splash

Usage/Application

Vegetables & Fruits Cleaner

Color

Pale Yellow